Whiter Teeth with Porcelain Crowns - 07/09/2003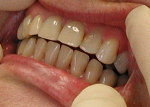 Many of the pictures that appear at the beginning of each Improving Your Smile category are examples of the various dental problems that one may encounter. These are for educational purposes only and do not always represent the quality of dental restorative services that I strive to achieve.
Some pages like this one, however, contain actual before and after pictures of patients that we have treated in our office.
This patient's chief complaint was that her front teeth were to dark and she had trouble biting into things because her front teeth didn't touch when she bit down. We improved both her smile and her bite with metal-free porcelain crowns. See the picture below for the end result.
If you think that you might benefit from an Aesthetic consultation, give us a call or send us an e-mail.
Dr. Robert C. Doshier